Wow. That's all I have to say about this week so far. I can't believe this post is so late, but some pretty great things have been happening. For instance, I have been FREAKING out over not having a job this entire summer. Basically, I just kept seeing all my friends who graduated doing some great things & here I was still applying places. I had an interview about a couple weeks back & I fell in LOVE with the company.Well, it turns out that the company also fell in love with me and I got the job! Woo! I start Monday and I am both excited & incredibly nervous. On top of that, I decided to go ahead and adopt a rabbit. She's a Flemish Giant & she lives up to her breed, she's huge! We aren't getting along amazingly well yet, but I have high hopes for us. Anyways, so these two things have kept me pretty occupied so far this week & I finally had a second to sit down to blog.  ( At this point I feel like you are all used to my rants about life…)
So, Waiting on Wednesday is hosted over at Breaking the Spine and each week we highlight some amazing books that have yet to come out! This week it's all about….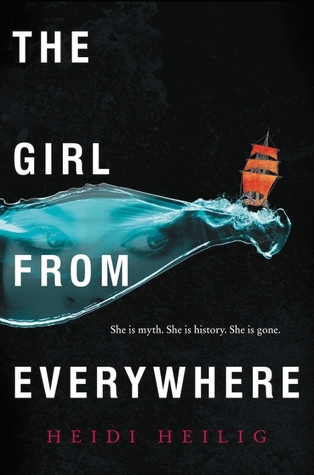 The Girl from Everywhere, Heidi Heilig
Feb. 16th, 2016
Nix's life began in Honolulu in 1868. Since then she has traveled to mythic Scandinavia, a land from the tales of One Thousand and One Nights, modern-day New York City, and many more places both real and imagined. As long as he has a map, Nix's father can sail his ship, The Temptation, to any place, any time. But now he's uncovered the one map he's always sought—1868 Honolulu, before Nix's mother died in childbirth. Nix's life—her entire existence—is at stake. No one knows what will happen if her father changes the past. It could erase Nix's future, her dreams, her adventures . . . her connection with the charming Persian thief, Kash, who's been part of their crew for two years. If Nix helps her father reunite with the love of his life, it will cost her her own.

In The Girl from Everywhere, Heidi Heilig blends fantasy, history, and a modern sensibility with witty, fast-paced dialogue, breathless adventure, and enchanting romance.
I love the cover, very simple but it managed to grab my attention. I haven't heard much about this book ( I was scrolling through 2016 releases on Goodreads & came across it) but I am really excited about it. It had me thinking how far we will go for family & what we are willing to risk (even ourselves!)  I'm a little skeptical about the romance part ( sometimes I feel like they just throw in a romance because that's what readers expect) but I think this is going to be a good one!
What do you think? What are you excited about? Let's chat!